Anthony B. Costales, M.D.
Assistant Professor
Baylor College of Medicine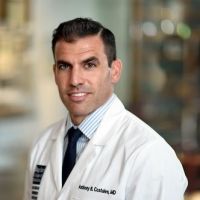 Position
Assistant Professor
Dan L Duncan Comprehensive Cancer Center
Gynecologic Oncology
Baylor College of Medicine
Houston, United States

Address
Baylor St. Lukes Medical Center (Clinic)
7200 Cambridge Street
7th floor
Houston, Texas 77030
United States
(713) 798-1999
Google Maps

Certifications
MD
S2006
Texas Medical License

Board eligible in Obstetrics & Gynecology
American Board of Obstetrics & Gynecology

Board eligible in Gynecologic Oncology
American Board of Obstetrics and Gynecology
Education
BS from Missouri State University
05/2008 - Springfield, Missouri United States

MD from The University of Texas at Houston McGovern Medical School
06/2012 - Houston, Texas United States
Residency at The University of Texas at Houston McGovern Medical School- Memorial Hermann Hospital
06/2016 - Houston, Texas United States

Fellowship at Cleveland Clinic Foundation
06/2019 - Cleveland, Ohio United States
Professional Statement
Anthony B. Costales, M.D. is an Assistant Professor in the Department of Gynecologic Oncology. He graduated residency in Obstetrics and Gynecology from the McGovern Medical School at UTHealth. He then completed his fellowship in Gynecologic Oncology at the Cleveland Clinic Foundation. Dr. Costales provides both medical and surgical care to women with gynecologic cancers. He performs minimally invasive surgery, both robotic and laparoscopic surgery, for appropriate patients with uterine and early-stage ovarian cancers. Dr. Costales also has a special interest in the use of hyperthermic intraperitoneal chemotherapy (HIPEC) for advanced and recurrent ovarian cancers. Along with providing excellent care to his patients, Dr. Costales' primary research interests include surgical clinical trials to optimize outcomes in gynecologic cancer patients. Specifically, he is pursuing study in the advancement of the role of minimally invasive surgery in gynecologic oncology, as well as the use of HIPEC in advanced and recurrent ovarian cancers. Dr. Costales believes in the early adoption of technology to improve outcomes in his patients. He has authored and co-authored numerous articles in peer-reviewed journals on these and other subjects. With his free time, Dr. Costales enjoys playing all sports, in particular soccer, working out at his CrossFit gym, traveling around the world with his family, and going to the dog park with his American Bulldog-Pitbull mix named Jorge.
Professional Achievements
2020 Texas Super Doctors Rising Stars
07/2020 - Super Doctors
Professional Interests
Hyperthermic intraperitoneal chemotherapy (HIPEC)

Management of hereditary breast and ovarian cancer syndromes

Fertility-sparing treatment of gynecologic cancers

Complex gynecologic surgery

Minimally invasive surgery for gynecologic cancers

Sentinel lymph node mapping for gynecologic cancers

Treatment of ovarian cancer

Treatment of cervical cancer and pre-invasive disease

Treatment of uterine cancer and pre-invasive disease

Treatment of vulvar cancer and pre-invasive disease

Treatment of vaginal cancer and pre-invasive disease

Treatment of uterine sarcomas
Physician Specialties
Gynecologic Oncology

Hyperthermic Intrapertionial Chemotherapy (HIPEC)
Memberships
Society of Gynecologic Oncology
07/2014

American College of Obstetrics and Gynecology
07/2011
Websites