Angela Denise Haskins, M.D.
Assistant Professor
Baylor College of Medicine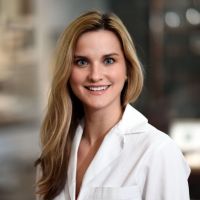 Position
Assistant Professor
Otolaryngology - Clinical
Baylor College of Medicine

Address
Jamail Specialty Care Center (Clinic)
1977 Butler Blvd.
5th Floor
Suite: E5.200
Houston, Texas 77030
United States
(713) 798-5900
Google Maps

Education
BS from University of Georgia
05/2005 - Athens, Georgia United States
MD from Medical College of Georgia
05/2009 - Augusta, Georgia United States
Residency at University of Alabama Medical Center
06/2018 - Birmingham, Alabama United States
Fellowship at Medical University of South Carolina
06/2019 - Charleston, South Carolina United States
Professional Statement
Angela D. Haskins, M.D. is board certified by the American Academy of Otolaryngology, Head & Neck Surgery. She attended medical school at the Medical College of Georgia and residency training at the University of Alabama Medical Center. She then completed additional fellowship training for head and neck oncology in addition to microvascular reconstructive surgery through the American Head & Neck Society at the Medical University of South Carolina. She specializes in surgical management of pathologies involving the head and neck skin, mouth, pharynx, larynx, saliva glands, thyroid, and parathyroid glands. She is also trained in plastic reconstruction of Mohs defects and large head and neck cancer ablative defects. She has a unique interest in the gut microbiome and how nutrition specifically impacts head and neck cancer treatment outcomes. She is a dedicated academician with a commitment to providing quality education and effective mentorship for medical student and resident trainees. She serves her clinical department as the quality and safety representative and works closely with staff to provide exemplary service for their patients.
Professional Interests
Mouth and Tongue Cancer

Throat Cancer Including the Pharynx and Larynx

Thyroid Cancer

Parathyroid Disorders Including Adenoma and Hyperplasia

Salivary Gland Disorders Including Tumors of the Gland or Sialadenitis

Advanced Skin Cancer of the Head and Neck

Zenker's Diverticulum

Microvascular Head and Neck Reconstruction

Reconstruction of Moh's Defects