Ernesto Jimenez, M.D.
Associate Professor of Surgery
Baylor College of Medicine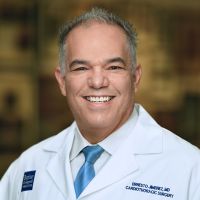 Position
Address
Michael E. DeBakey VA Medical Center (Clinic)
2002 Holcombe Boulevard
OCL-112
Mail Stop: BCM390
Houston, Texas 77030
United States
(713) 791-1414
Google Maps

Certifications
American Board of Thoracic Surgery

American Board of Surgery

National Board of Medical Examiners
Education
Fellowship at Harvard Surgical Service, New England Deaconess Hospital
Boston

Residency at Harvard Surgical Service, New England Deaconess Hospital
Boston

Residency at University of Illinois Medical Center
Chicago

Research Fellowship at University of Illinois, College of Medicine
Chicago

MD from University of Cincinnati College of Medicine
Cincinnati
Professional Statement
Dr. Ernesto Jimenez is chief of Cardiothoracic Surgery at the Michael DeBakey VA Medical Center and an attending surgeon at CHI-St. Luke's Medical Center. He provides care for patients with complex valve disease, thoracic aneurysms, atrial fibrillation, and ischemic heart disease. He specializes in minimally invasive valve surgery, mitral valve repair, as well as coronary artery revascularization with arterial conduits. Dr. Jimenez completed both his general surgery residency and cardiothoracic surgery fellowship on the Harvard Surgical Service at the New England Deaconess Hospital in Boston, Massachusetts. Prior to coming to the Texas Medical Center, Dr. Jimenez was an associate professor of Surgery at the University of South Florida College of Medicine, and chief of Cardiothoracic Surgery at the James Haley VA Hospital in Tampa, Florida. During his tenure at the James Haley Hospital, surgical outcomes were consistently ranked among the best within the VA system. While at the Pepin Heart Hospital he was the first surgeon to perform Port Access minimally invasive mitral valve surgery in the Tampa Bay Region. He subsequently developed the only minimally invasive valve surgery program within the VA system at the James Haley VA Hospital. Dr. Jimenez was also well recognized within the west coast of Florida for his expertise with complex mitral valve repairs. Dr. Jimenez's research on the effects of ischemia on myocardial intracellular calcium accumulation has helped to significantly improve the make-up of cardioplegia solutions in order to best ameliorate the effects of ischemia on the heart during cardiac arrest. Most recently, he has investigated the effects of both human umbilical stem cells and chitogen hydrogels on the ischemic myocardium. His clinical research has primarily focused on improving cardiac surgical outcomes within the veteran population. Dr. Jimenez is passionate about delivering both clinical excellence as well as compassionate care to his patients. He is an innovative surgeon who applies the most novel surgical research to help improve his patient's care. He is empathetic toward his patients' concerns and strives to deliver health care with the highest integrity and ethical standards.
Professional Achievements
Salvador Adriano Research Award
University of Cincinnati College of Medicine

"Best Cardiac Surgeons" in Tampa Bay Region
Tampa Bay Magazine

"Best Cardiothoracic Surgeons" in Florida
Castle Colony

Harvard Surgical Service Resident Teacher Award
New England Deaconess Hospital
Professional Interests
Cardiothoracic Surgery

Thoracic aneurysms

Ischemic heart disease

Atrial fibrillation
Professional Specialties
Cardiothoracic Surgery

Minimally invasive valve surgery

Mitral valve repair

Coronary artery revascularization with arterial conduits
Memberships
Society of Thoracic Surgery

Association of Veteran Surgeons

American College of Surgeons
Websites