Robert B Parke, MD, FACS, MBA
Professor, Chief of Service MED VAMC
Baylor College of Medicine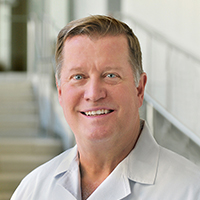 Positions
Professor, Chief of Service MED VAMC
Otolaryngology-Head & Neck Surgery
Baylor College of Medicine
Houston, TX US

Chief Otolaryngology Service
Operative Care Line
MEDVAMC

Faculty Senator
Baylor College of Medicine
Houston, Texas United States

Address
Jamail Specialty Care Center (Clinic)
1977 Butler Blvd.
Suite E5.200
5th floor
Houston, Texas 77030
United States
(713) 798-5900
Google Maps

Certification
Diplomate American Board of Otolaryngology
Education
MD from Baylor College Of Medicine
01/1973 - Houston, Texas United States
Residency from Baylor College Of Medicine Affiliate Hospitals
01/1974 - Houston, TX United States

Otolaryngology

Fellowship from Columbia University Affiliate Hospitals
01/1979 - New York, NY United States

Head and Neck Surgery

B.S. from Spring Hill College
01/1970 - Spring Hill, AL United States
M.B.A. from Rice University
01/1993 - Houston, TX United States
Internship at Baylor College of Medicine
Houston, Texas United States

Surgery
Professional Statement
I have been on the faculty of Baylor College of Medicine for over 30 years and have trained over one hundred physicians in Head & Neck Surgery. Teaching keeps you on the front lines of medical and surgical innovation; and the translation into practice becomes seamless. There is a joy to practicing surgery, and I try to share that enthusiasm with my patients. One always has choices of providers; I assure that your choice of a Baylor Otolaryngologist will be the right one for you and your family.
Professional Interests
Otolaryngology - Head and Neck Surgery

Parotid and Salivary Gland Tumors

Cancers of Head & Neck

Neck Masses

Thyroid and Thyroid Cancer

Parathyroid Surgery

Endoscopic Sinus Surgery

Oral Cavity Cancer

Vascular Tumors of the Head & Neck