Sumitra Khandelwal, M.D.
Associate Professor
Baylor College of Medicine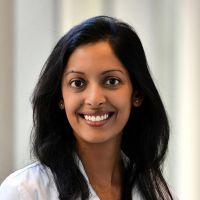 Positions
Associate Professor
Ophthalmology-Departmental
Baylor College of Medicine
Houston, TX US

Medical Director
Lions Eye Bank of Texas
Houston, Texas United States

Addresses
Jamail Specialty Care Center - Alkek Eye Center (Clinic)
1977 Butler Blvd
2nd Floor
Houston, Texas 77030
United States
(713) 798-6100
Google Maps

Clear Lake Office (Clinic)
2323 Clear Lake City Blvd
Houston, Texas 77062
United States
(281) 480-1002
Google Maps

Certifications
Board Certified in Ophthalmology American Board of Ophthalmology

Medical License Texas Medical Board
Education
MD from University of Texas at Houston
Houston, Texas
Residency at Emory University
Atlanta, Georgia

Ophthalmology

Clinical Fellowship at Minnesota Eye Consultants
Minneapolis, Minnesota

Cornea, Cataract and Refractive Surgery
Professional Statement
Dr Sumitra Khandelwal is Assistant Professor of Ophthalmology at Baylor College of Medicine, Cullen Eye Institute and also serves as Medical Director for the Lions Eye Bank of Texas. Her clinical interests include cornea, cataract and refractive surgery. She has written several publications and spoken an national meetings about optimizing outcomes in cornea and cataract surgery. She is associate editor of Cornea Cross-Linking, 2nd edition a comprehensive overview of the treatment options for keratoconus and ectasia after LASIK. Dr Khandelwal sees patients at Alkek Eye Center in the medical center as well as at Space Center Eye in Clear Lake.
Professional Interests
Cornea Transplantation

Cataract surgery

Refractive Surgery