Malcolm K Brenner, M.D., Ph.D.
Professor
Baylor College of Medicine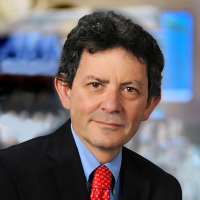 Position
Address
Texas Children's (Work)
Clinical Care Center
6701 Fannin St., 14th Floor
Houston, Texas 77030
United States
(832) 824-4671
Google Maps

Houston Methodist Hospital (Clinic)
Blood, Marrow and Cell Therapy Center
6565 Fannin Ste 800
Houston, Texas 77030
United States
(713) 441-1450
Google Maps

Education
BA from University Of Cambridge
01/1972 - Cambridge United Kingdom
MBChB from Westminster Medical College
01/1975 - London United Kingdom
PhD from University Of Cambridge
01/1981 - Cambridge United Kingdom
Professional Statement
Dr. Brenner's primary research interest is the use of gene transfer to augment the immune response to human tumors, using vaccines and adoptive transfer of genetically modified T cells. In neuroblastoma, Dr. Brenner and co-investigators have shown that T cells expressing a chimeric antigen receptor (CAR) for a surface marker (GD2) on neuroblastoma cells can produce tumor responses in more than half the patients with refractory or relapsed disease leading to complete remission in 3/11 patients. His Center is also studying the benefits of T cells modified with CARs directed to other tumor antigens on hematological malignancies and solid tumors including Hodgkin Disease and Glioblastoma multiforme and initial clinical results are promising. Efforts are being made to further increase the effectiveness of these CAR-T cells by incorporating genes that enhance T cell growth and survival and that render the T cells resistant to the inhibitory effects of many human tumors. To enhance the safety of genetically modified T cells, Dr. Brenner and colleagues have implemented an inducible caspase system that will rapidly cause apoptosis of T cells within minutes of administration of a small molecule dimerizing drug, allowing adverse effects from the T cells to be reversed. Initial clinical trials showed significant activity, and the approach is now being broadened to other novel T cell therapeutics. Dr. Brenner's group combines these adoptive transfer strategies with immunization against the tumors to produce synergistic benefits and clinical studies in chronic lymphocytic leukemia have recently begun. Finally, in collaboration with the laboratories of Drs. Rooney, Heslop and Bollard, Dr. Brenner is continuing to study the use of gene modified cytotoxic T lymphocytes to prevent and treat the Epstein Barr virus associated malignancies, immunoblastic lymphoma, Hodgkin disease, and nasopharyngeal cancer (NPC). By transducing dendritic cells with EBV antigens, we are able to generate potent immune responses against the weak EBV latency antigens expressed in Hodgkin disease and NPC. Studies in 23 patients with relapsed or refractory EBV-positive Hodgkin and Non-Hodgkin lymphoma patients have produced complete responses in more than half. The potential to increase the effectiveness of the T-cells in vivo using monoclonal antibodies directed to immunological checkpoints is now being evaluated in clinical trials.
Professional Interests
Use of gene therapy to improve responses to cancer
Websites